This project is different from other freelance projects in many ways. First I failed. Then I was promoted to level 16. Again I succeeded. Next I was paid. Finally I was recognized as a good service provider.
Level 16 @ Freelancer.com [Novice]
I was able to reach the Level 16 at Freelancer.com with the completion of this project.

A Failed Project
I wasn't able to delivery what I promised initially. The result was a bad review from the employer.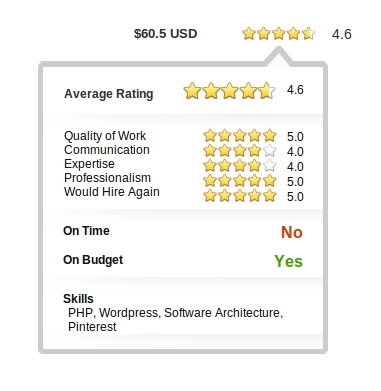 I deserve that review. I failed to deliver what he initially demanded to do. I thought I would be able to complete the project. But Pinterest made it hard to connect with them without a proper API. The following is the initial project description.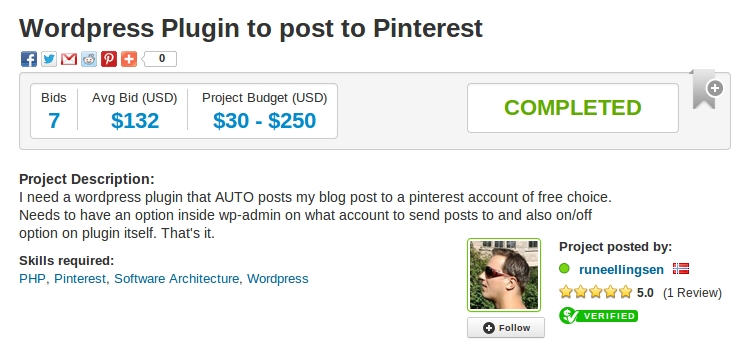 See the above review: On Time: No
I've tried many hours to get this plugin work. All attempts failed. Project went for a long time than I initially promised. However, employer assigned me the other project he had posted on freelancer.com. I knew that I could complete that project, at the first impression of the project description. I accepted the project. I delivered it very quickly.
5.50USD Tip
I received a tip for the successful completion of the second project.

Recognition as a Good Service Provider
Eventhough the first project failed, the second project was a success. I tried my best to deliver a good plugin for the second project. I received a comment from the employer worth of thousands of dollars.
Thanks for the work you have done. You really do go an extra mile and that is what separates you from the a lot of people. Being a service provider always go along way. So Thanks a bunch. Have a great weekend! :-) All the best.

- runeellingsen
The following are the feedbacks exchanged after the project completion.